Address
8687 North Central Expressway #2320
Dallas, TX 75225
United States
Phone Number
Location
Second Level near Macys across from Lenscrafters
Hours
Sunday

12:00 PM - 6:00 PM

Monday

10:00 AM - 7:00 PM

Tuesday

10:00 AM - 7:00 PM

Wednesday

10:00 AM - 7:00 PM

Thursday

10:00 AM - 7:00 PM

Friday

10:00 AM - 7:00 PM

Saturday

10:00 AM - 7:00 PM
Image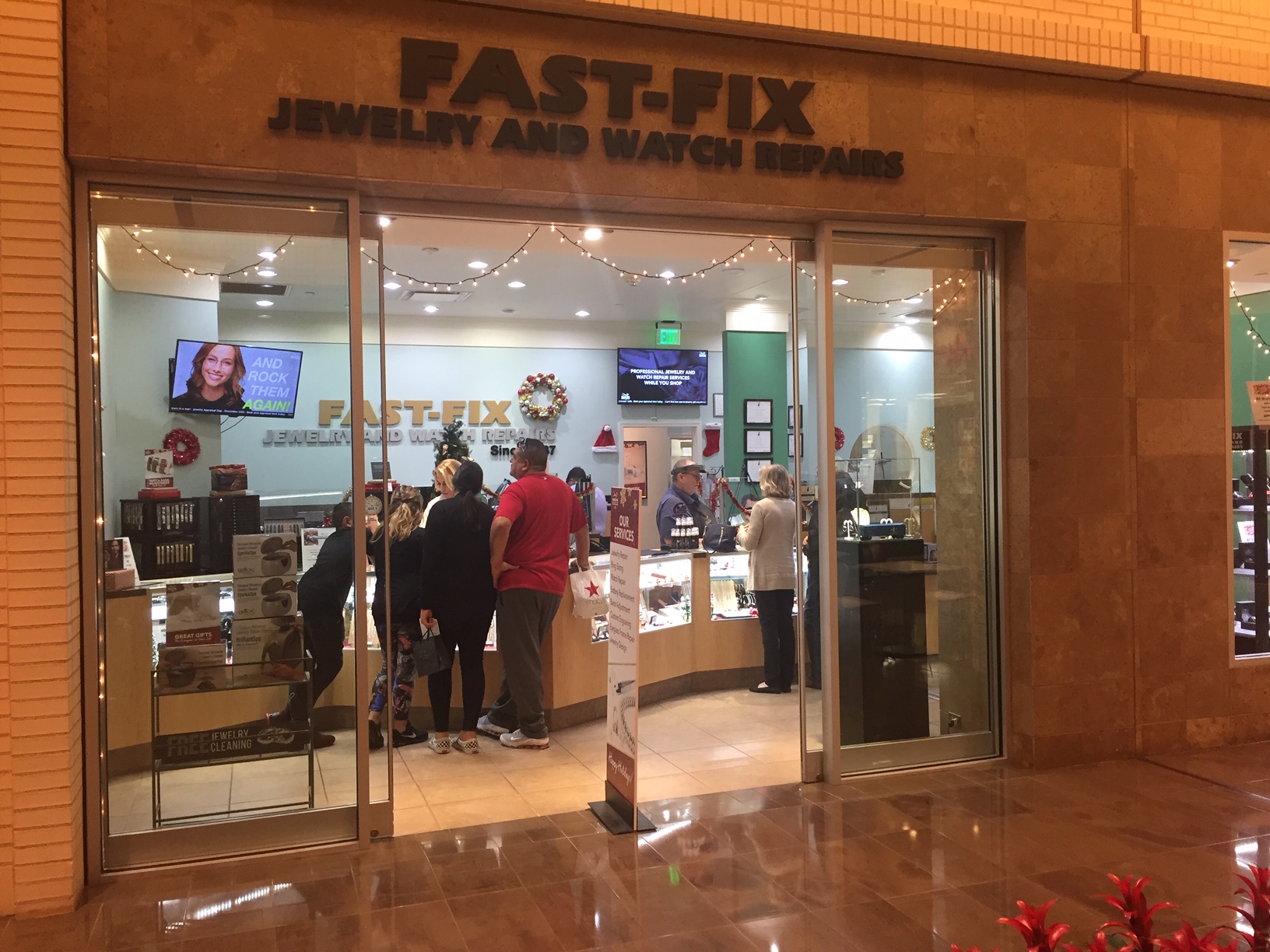 Our Store
Call us at (214) 361-2811 with your jewelry, watch and engraving questions.
NorthPark Center is located at U.S. 75 (N Central Expressway) and Loop 12 (Northwest Highway) in Dallas.  Zip code 75225.
Closest entrance to us: use the parking structure on the US-75 Central Expressway side closest to Macys. Enter the center on level 2 and we are the second store on the left. We are across from Eyemasters.
Open 10am - 7pm Monday through Saturday and Noon to 6pm on Sunday. Closed Thanksgiving Day, Christmas Day and Easter Sunday
SERVING THE DALLAS AREA SINCE 1987
JEWELRY REPAIR - WATCH REPAIR -  ENGRAVING - CUSTOM JEWELRY
We have found solutions for most all jewelry and watch repair issues that others said couldn't be done. Give us a try before you give up!
In 2022 the NorthPark Center location was named the #1 store in the franchise for sales and service across the nation. That's 14 years in a row. Thank you to all our loyal customers! 
Our staff of professional jewelers, watchmakers, watch techs and customer focused sales and service team members have served tens of thousands of customers who have experienced great while-you-wait quality service on their jewelry repairs, watch repairs and engraving needs.
We were the first franchise store in the U.S. with our Dallas store opening in September 1987. 
We're located on the second level of NorthPark Center near Macys. Park in the garage on the U.S. 75 (Central Expressway side) by Macys and enter the center through level 2. We're right across from Eyemasters. 
We use the highest quality materials in jewelry repair including freshly milled stock for ring sizing. Some jewelry repair shops will reuse old scrap gold and that can leave air bubbles and impurities in your ring. We only use fresh milled stock for a stronger, long lasting bond. 
We perform a complete watch battery check-up and give you the freshest batteries available. Our professional watch techs do more than just change your battery. We perform a multi-point inspection of your watch and offer a free pressure and leak test on request.
If you need to replace a missing gemstone or are looking to create a new piece of jewelry our professional jewelers are here to assist. 
We engrave on jewelry items, glass and crystal. 
Book your appointment now with our G.I.A. Graduate Gemologist for our while-you-wait Jewelry Appraisal Day each month. There's no need to leave your precious gems.
We carry the 302 line of fashionable jewelry. View the line here: https://302finejewelry.com/
Going on a trip but don't want to take your "big rocks"?  Check out our selection of CZ and Silver Travel Jewelry. 
We are the North Texas Authorized Philip Stein Watch Post-Warranty Repair Center. We carry Seiko and G-Shock watches.
We stock hundreds of watch bands in metal, leather, exotic and specialty sport and divers styles.
Need jewelry cleaning supplies like an ultrasonic cleaner, a jar of jewelry cleaner, silver cleaner, pearl cleaner of a polishing cloth? We have them in stock.
Our Team
Raymond, Sheila, Kevin and James
Professional watch technicians and watchmakers
Steve
Store Manager/ Jewelers of America Certified Bench Jeweler & Certified Store Manager
Spencer, Sheila, Ricardo, Johnnieann and Nancy
Professional sales & service team members
Steve, David and James
Professional Bench Jewelers